"The poor have hope… "
Many of you will have seen this photo of Anja Ringgren Lovén, the founder of the African Children's Aid Education and Development Foundation (ACAEDF), as she gave a naked 2-3 year old Nigerian child a sip of water.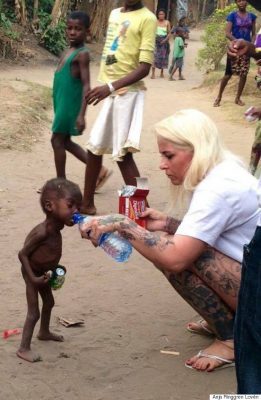 What you may not have heard is that Anja adopted this abandoned child and brought him home with her. Anja named him "Hope", and he is now doing well; thanks to her loving and dedicated intervention.
As believers in Christ, we are called to let our light shine in the midst of darkness. Is Anja a follower of Jesus? I don't know. But I do know that we are called to bring life … and HOPE … to the horrible situations around us. None of us can do everything, but all of us can do something. We are not saved by our good works, but we are saved UNTO them. As the Holy Spirit leads, guides and directs us, we are called to live out our lives in a way that reflects the love of Jesus. When the world around us sees Jesus in our actions, they will be compelled to ask the reason for the HOPE that is in us.
When we stand TOGETHER and show the love of Christ, our message and our ministry are all the more compelling. It is the deliberate love that we show for one another that is a mark the world cannot miss. In the Gospel of St. John 13:34-35, Jesus said, "A new command I give you: Love one another. As I have loved you, so you must love one another. By this everyone will know that you are my disciples, if you love one another." Our love is how they will know. The love we show for one another as believers, and the love they see in us as we deal with them.
Our love brings them hope.
Look for opportunities to show the love of Jesus to someone you meet today. Pray for a "divine appointment", and let the Lord open an opportunity for you to show His love to someone.
"The poor have hope, and injustice shuts its mouth." Job 5:16